Welcome to McGettigans
A charming eleven bedroom townhouse right in the heart of Dublin City with our famous  McGettigans bar, a beautiful Irish traditional pub dating back to 1776.
Welcome to the city of Yeats, Joyce, Synge and O'Casey. In the early part of the century you couldn't go into a public house without bumping into one of them (apart from the famously pub shy Yeats).
Our check in times are 3pm to 10pm only.
Please note our emergency out of hours number is  +353 1 8373544 (if calling please let us know it is in relation to McGettigan's Townhouse)
McGettigan's Townhouse has been recognized in the KAYAK Travel Awards 2022. The award is based on guest reviews so a special thanks to our guests.

"There are no strangers,
only friends you have not met yet."
William Butler Yeats
Stay with us while you are in Dublin. McGettigans Townhouse is an excellent place to stay in Dublin, as it is situated close to some great destinations such as Jameson Whiskey Distillery around the corner or wander across the Liffey to visit the Guinness Brewery with all its attractions. Our townhouse is one of the best accommodation in Dublin, situated on the Dublin Luas tram stop so within five minutes you are in the heart of the shopping district of Dublin. Meander around the shops and take in all the great attractions Dublin City has to offer.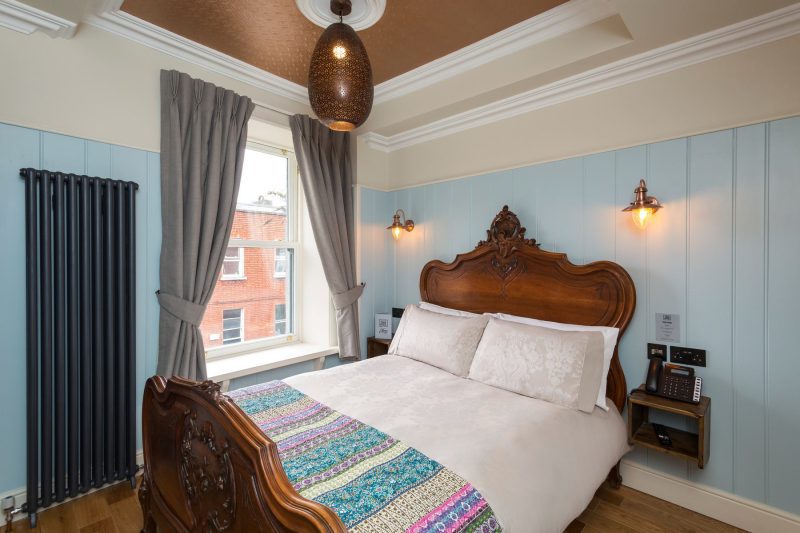 Our Townhouse Rooms and Facilities
Our eleven rooms on Queen Street exude the soul of a home away from home rather than a grand hotel.   Each room has been lovingly decorated with pastel tones, wooden paneling and in some rooms exposed bricks.  All our rooms of course have ensuite with shower.
Our Rooms
The Annie - 9.5 Sqm
The Barrney - 10sqm
The Jim - 14.8sqm
The Neil - 10.4sqm
The Patricia - 10sqm
The Maritn - 15.5sqm
The Brian
The Dinny
The Maureen
The Breege
The Oliver - 7.5sqm (4ft bed)
McGettigan's Townhouse Emergency Contact Number is 083 2064161. Please identify yourself as a guest of McGettigan's Townhouse when calling this number.
In Room Facilities
Standard Size Double Bed (except the Oliver which has a 4ft bed)
32'' TV in all the rooms
Wifi- available in all rooms
Individual Heating  Controls
Keyless Door Entry System
Fridge in all rooms
Bluetooth Mirrors
Room Service 3pm-8pm
Complimentary Personalised Bottle of Guinness
Complimentary Sparkling Water
Hairdryer
Robes & Slippers in all Rooms
Complimentary Telephone calls to Ireland, UK & USA Landline & Mobiles
USB Ports
Luxury Prija Toiletries
Check In/Check Out
Check-in from 4pm, closes at 10pm. Please contact us to make this arrangement 24 hours prior to arrival.
Rosie Platt
3 months ago
This was such a beautiful place to stay, the photos do not do it justice. They go above and beyond. We will definitely stay here again anytime we are in the city. Breakfast was included and incredible! The staff was all amazingly kind. I didn't find a noise issue at all. We had difficulty getting in and the GM who happened to be walking by not only helped us get in but carried our bag, just really incredible people!
Sam Runion
a week ago
Stayed here for three nights in late January. The whole vibe is so cozy and welcoming. They have done an excellent job of renovating the rooms. The pub below your bed is the highlight of the stay! Great food, perfect pints, and friendly people! I hope I can return someday. Thank you!
FaceTheSun
6 months ago
We loved the room, it had everything we needed. The bathroom has many modern amenities and a wonderful shower. Plenty of electrical outlets all with USB ports for charging your electronics. The staff was very friendly and helpful offering many suggestions for places to visit. The location is great with everything within walking distance. We would definitely stay here again.
James Irish
4 months ago
Quintessential Irish Pub North of the River. Only did the Bar... credit card only at the bar. Quick service so be ready to order. Lovely music and friendly staff.
Jordan Kevin Magtaan
4 months ago
Surprised that we've never been to McGettigan's in Smithfield because it was such a gem. A lot of care went into making the pub area look great and it shows. On top of that, service was top-notch and every single member of staff we encountered were really friendly. For lunch, we ordered buffalo chicken wings, beef and Guinness stew and sweet potato fries. They make delicious Dingle gin and tonic too! The chicken wings were wonderfully flavoured with the perfect balance of saltiness, zestiness and spiciness. The skin was very crispy too. The beef was super tender and the stew just screams "comfort food" particularly during chilly autumnal afternoons. Finally, the sweet potato fries were all crispy and delicious. We had a very enjoyable meal here. McGettigan's is a fantastic townhouse and gastropub at the heart of Dublin and a must try!
The infamous McGettigan's is a beautiful pub dating back to 1776.
Join us for morning coffees, daytime bites, after work pints or a wee dram of whiskey.
We have something for everyone ranging from your classic draught, craft beers and IPAs, premium spirits, non-alcoholic drinks, cocktails and one of the largest range of whiskies in Dublin.
Get yourself down to McGettigans....We'll have the usual waiting for you.
McGettigans Townhouse is Located at 17 Queen Street, Arran Quay Dublin 7. We are positioned in-between the two main train stations in Dublin, Heuston Station and Connolly Station. Dublin is linked by The Luas which is on our doorstep so you are in a great city location to go exploring.
The Perfect Venue for You
McGettigans Pub & Townhouse is the perfect location for groups to stay who are exploring Dublin cities culture or for businesses who have a local office in the area and want to plan an event.
We can cater for office meetings, receptions, birthday celebrations, and group events – we just love to host parties.
You can even stay overnight in our upstairs accommodation.
Get in touch with us today if you would like to book an area for your event or check availability for rooms for your group.