Christmas in Dublin
A charming eleven bedroom townhouse & Irish pub located right in the heart of Dublin City dating back to 1776.
Welcome to McGettigans
A charming eleven bedroom townhouse right in the heart of Dublin City with our infamous McGettigans bar, a beautiful Irish traditional pub dating back to 1776.
Welcome to the city of Yeats, Joyce, Synge and O'Casey. In the early part of the century you couldn't go into a public house without bumping into one of them (apart from the famously pub shy Yeats).
Please note our emergency out of hours number is +353 83 2064161 or +353 1 8373544 (if calling please let us know it is in relation to McGettigan's Townhouse)
McGettigan's Townhouse has been recognized in the KAYAK Travel Awards 2022. The award is based on guest reviews so a special thanks to our guests.

"There are no strangers,
only friends you have not met yet."
William Butler Yeats
Learn more about Our History
The history of our bar dates way back to 1776 and people have been enjoying the authentic ambience of a "Real" Dublin bar ever since. An original "craft bar" before the modern term was invented, McGettigan's is a true original & was part of a select group of pubs permitted to bottle its own stout and whiskey by no less than Arthur Guinness and John Jameson. McGettigan's really is a little bit of history on tap.
Dublin in the 20th Century. The city of Yeats, Joyce, Synge and O'Casey. In the early part of the century you couldn't go into a public house without bumping into one of them (apart from the famously pub shy Yeats). Roll forward to the 50's and 60's and it was the era of Behan, Kavanagh and Flann O'Brien. Larger than life characters, synonymous with famous Dublin Pubs, there's no telling how many immortal lines were inspired in the surrounds of these Dublin bars.
And it was around this time that James McGettigan opened the doors at 78 Queen Street. As the man says, he wrote his name over the door and that name has stood for genuine Irish hospitality ever since. The ultimate guarantee of honesty is to put your signature on it; Something James McGettigan has been doing ever since 1964.
And that signature received the ultimate recognition, when McGettigans were part of a select few permitted to the bottle their own Guinness, with the bottles bearing the famous Arthur Guinness signature as well as the legend "Bottle by J&B McGettigan."
It's 1964. Bob Dylan is singing The Times They Are A Changin' on the radio… and the world is changing. Décor is mid century, cocktails are bang in fashion and fashion is all about sharp suits, short skirts and clean lines. Against all of this young James (Jim) McGettigan, fresh from seeing the world working the bars in the world famous QE1 ocean liner, James sets up the original James McGettigan's Bar in the Queen Street, Dublin. It's also the era of Hollywood royalty, and when Liz Taylor & Richard Burton drop into McGettigan's, the most famous couple in the world enjoy the same warm welcome and authentic experience that has become standard for all patrons of McGettigan's throughout the years. So whether you're strolling the streets of Dublin's fair city, or the sidewalks from New York to Dubai, just look for the signature and you know you're right at home.
We'll have the usual waiting for you.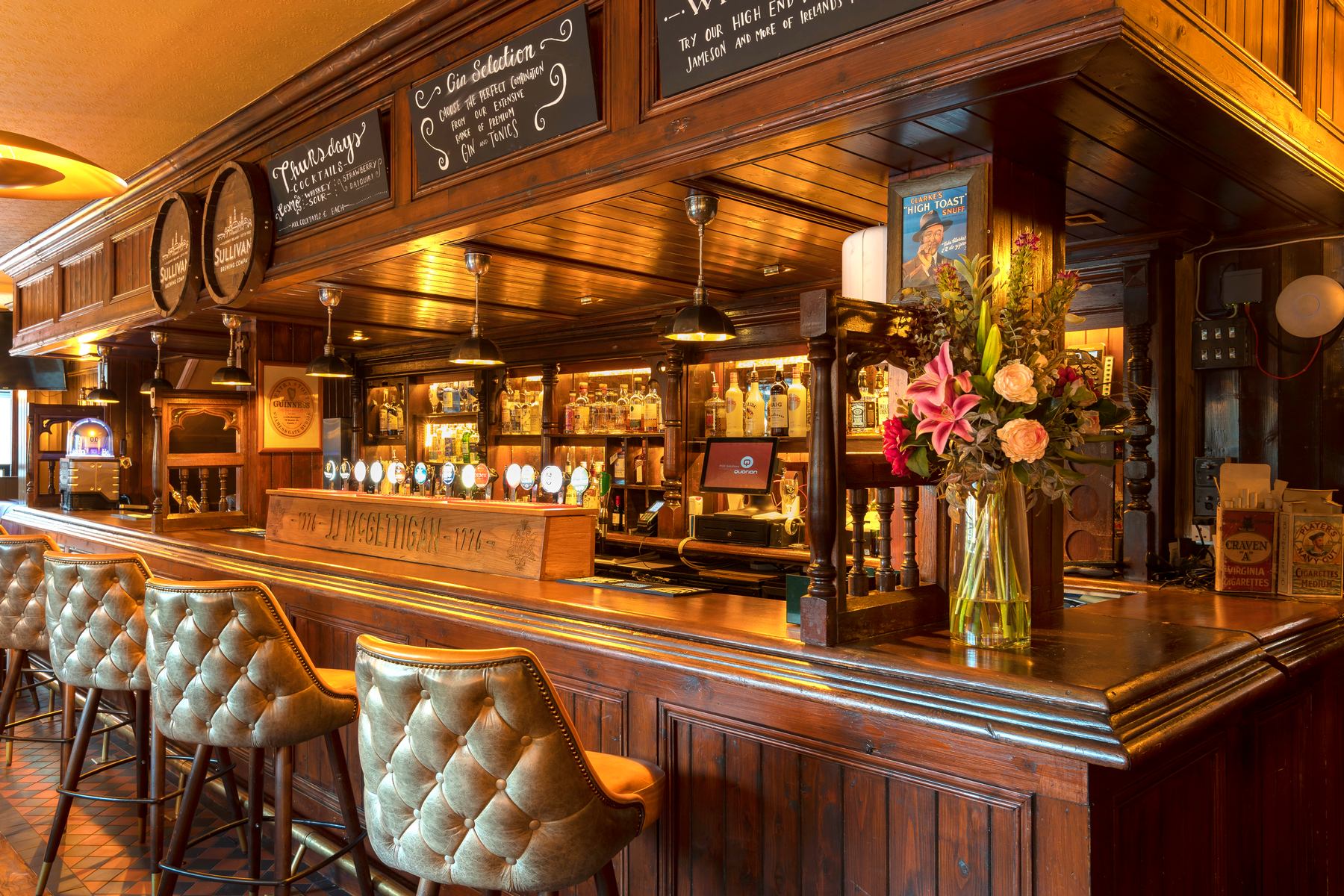 Stay with Us
Book Your Stay View Special Offers
Come And Stay With Us
Stay with us while you are in Dublin. McGettigans Townhouse is an excellent place to stay in Dublin, as it is situated close to some great destinations such as Jameson Whiskey Distillery around the corner or wander across the Liffey to visit the Guinness Brewery with all its attractions. Our townhouse is one of the best accommodation in Dublin, situated on the Dublin Luas tram stop so within five minutes you are in the heart of the shopping district of Dublin. Meander around the shops and take in all the great attractions Dublin City has to offer.
Our Townhouse Rooms and Facilities
Our eleven rooms on Queen Street exude the soul of a home away from home rather than a grand hotel.   Each room has been lovingly decorated with pastel tones, wooden paneling and in some rooms exposed bricks.  All our rooms of course have ensuite with shower.
Our Rooms
The Annie – 9.5 Sqm
The Barrney – 10sqm
The Jim – 14.8sqm
The Neil – 10.4sqm
The Patricia – 10sqm
The Maritn – 15.5sqm
The Brian
The Dinny
The Maureen
The Breege
The Oliver – 7.5sqm (4ft bed)
McGettigan's Townhouse Emergency Contact Number is 083 2064161. Please identify yourself as a guest of McGettigan's Townhouse when calling this number.
In Room Facilities
Standard Size Double Bed (except the Oliver which has a 4ft bed)
32" TV in all the rooms
Wifi- available in all rooms
Individual Heating  Controls
Keyless Door Entry System
Fridge in all rooms
Bluetooth Mirrors
Room Service 3pm-8pm
Complimentary Personalised Bottle of Guinness
Complimentary Sparkling Water
Hairdryer
Robes & Slippers in all Rooms
Complimentary Telephone calls to Ireland, UK & USA Landline & Mobiles
USB Ports
Luxury Prija Toiletries
Check In/Check Out
Check-in from 4pm, closes at 10pm, after this time we can arrange to issue you with a mobile key. Please contact us to make this arrangement 24 hours prior to arrival. Book Your Stay View Special Offers
What Our Visitors Say
Slav ★★★★★ 4 months ago Simply brilliant. Paul the owner of the pub was a fantastic host. He was very welcoming and informative and a bloody nice guy… don't forget his full Irish breakfast which is spot on especially the sausage. The location of the pub was brilliant for my partner and me as we were within walking distance of the main streets and city (15-20mins) as well as the Zoo and the Guinness factory and some other museum bits. There is also a tram which is a 1minute walk away from the pub which would take you right into the city centre. The room was lovely very clean and had all the facilities and extras that you would need. Thank you for a lovely stay!
FaceTheSun ★★★★★ 2 months ago We loved the room, it had everything we needed. The bathroom has many modern amenities and a wonderful shower. Plenty of electrical outlets all with USB ports for charging your electronics. The staff was very friendly and helpful offering many suggestions for places to visit. The location is great with everything within walking distance. We would definitely stay here again.
Jaise Egan ★★★★★ 3 months ago Very affordable, simple but great rooms available! Far enough away from the busy Temple Bar area that it's not too loud but close enough to get there if you wanted to. We were very happy with our accommodations and breakfast and would stay here again!
James Irish ★★★★★ a month ago Quintessential Irish Pub North of the River. Only did the Bar… credit card only at the bar. Quick service so be ready to order. Lovely music and friendly staff.
Drinks
Get down to McGettigans
The infamous McGettigan's is a beautiful pub dating back to 1776.
Join us for morning coffees, daytime bites, after work pints or a wee dram of whiskey.
We have something for everyone ranging from your classic draught, craft beers and IPAs, premium spirits, non-alcoholic drinks, cocktails and one of the largest range of whiskies in Dublin.
Get yourself down to McGettigans….We'll have the usual waiting for you.
Food
View Breakfast Menu View All Day Menu
Come Eat with Us!
We are delighted to be able to offer you a fantastic full Irish Breakfast while staying with us and also a Full Day Menu. All our food is cooked in our restaurant and served to your table. We also have a fantastic range of beers, ales, IPA's, spirits and cocktails.
Breakfast Monday – Thursday – 8am to 11am
Breakfast Weekends Saturday – Sunday – 8.30am to 11.30am
All Day Menu from 12.30pm-9pm
(this can be subject to change)
We look forward to welcoming you.
Our Location
The Heart of Dublin City
McGettigans Townhouse is Located at 17 Queen Street, Arran Quay Dublin 7. We are positioned in-between the two main train stations in Dublin, Heuston Station and Connolly Station. Dublin is linked by The Luas which is on our doorstep so you are in a great city location to go exploring.
Things to do
Our Local Area
Slowly but surely, Capel Street has established itself as one of the most multicultural areas of the city. The vast array of nationalities, communities and cultures established here adds to the consuming energy and vibrancy of the street. At the very top of the street is SEDA College, the English language school. Huge numbers of Brazilians, Italians, Spanish and French students attend classes here, many of whom live nearby. There's also a lesser amount of Japanese, Chinese and Korean students.
The famous Pantibar, located at the lower end of the street, hosts the biggest street party of the year for Pride each summer. The brightly coloured bar and accompanying neon sign are iconic for the city's LGBTQ+ community and it's a cornerstone of Capel Street. Directly opposite is Jack Nealon's, which has operated as a pub since 1905, and recently re-opened under new management. A large open-hearth fire and gold-gilted ceiling are stand out features of a gorgeous interior. Located mid-way up the street, J McNeill's is a beautiful, traditional Dublin pub; a local's favourite and a great place for live trad music. It's also a music shop. It is the perfect place to go with the Sunday paper and enjoy a quiet pint of plain. To see pubs like McNeill's opposite Asian supermarkets, alongside charity shops, adult boutiques and hardware shops is to gaze at the pumping heart of Capel Street.
Read more about this great part of dublin – from Dublin Live
What's on in Dublin
What's On
Dublin, with its Georgian elegance, its medieval bustle and its 20th century buzz offers something for all visitors. We are located close to many of Dublin's fine Theatres, Concert Hall and Convention Centre. Dublin is a vibrant City and there is always something happening.
Upcoming Events
There are some fabulous events coming up all over Dublin follow the links below to find out what events, shows and gigs are coming up in Dublin
Some Must Do's while Visiting Dublin
Book of Kells
National Gallery of Ireland
Botanical Gardens
St Patrick's Cathedral
Museum of Modern Art
National Museum of Ireland
Visit the Jameson Distillery
Jameson Distillery 
Enjoy a tour and whiskey tasting at the birthplace of Irish whiskey in Dublin. 
In 1780 John Jameson threw open the doors of the Jameson Distillery Bow St. Over 200 years later, the doors are still open to friends old and new. Come for a distillery tour, a premium whiskey tasting experience, learn how to blend your own take-home whiskey, master the craft of whiskey cocktail making here in our home or draw whiskey straight from a Jameson cask in Dublin's only live maturation warehouse. All right here in the beating heart of Dublin, Smithfield.
Take the Jameson Distillery Bow St. Tour in Dublin 
Follow in the footsteps of the founding fathers of Jameson on the only tour of the original Jameson distillery in Dublin. We've been a constant presence in the heart of our beautiful city since 1780, and as you can imagine, we've seen quite a few things in our time. Our Ambassador will guide you for a serving of heritage and history on the definitive Jameson tour experience – stories, craic, a comparative whiskey tasting and of course, a complimentary Jameson in the exact spot where it all began. 
Remember, the early bird catches the worm so be sure to arrive 15 minutes before your tour and check in at our reception.
Visit the Guinness Storehouse
Guinness Storehouse
Located in the heart of the St. James's Gate Brewery, the Guinness Storehouse® is Ireland's most popular tourist attraction. It's the home of the Black Stuff, the heart of Dublin and an unforgettable start to your Irish adventure.
The journey begins at the bottom of the world's largest pint glass and continues up through seven floors filled with interactive experiences that fuse our long brewing heritage with Ireland's rich history. At the top, you'll be rewarded with a pint of perfection in our world-famous rooftop Gravity Bar. Now that's our kind of higher education.
We are just a five minute walk across the Liffey to this great Dublin attraction.
  Visit Dublin Zoo
Dublin Zoo
Dublin Zoo is much more than a fun-filled, stimulating day out for all the family… it's a place to learn about wild animals, especially endangered species. Dublin Zoo is a registered charity – your visit will help maintain Dublin Zoo to a high standard, develop new habitats and experieces and contribute to conservation programmes.
As one of the world's oldest and most popular zoos, the 28 hectare park in the heart of Dublin is home to some 400 animals in safe environment where education and conservation combine for an exciting and unforgettable experience!
Dublin Zoo's world-class habitats include the African Savanna, Family Farm, Gorilla Rainforest, Sea Lion Cove and Flamingo Lagoon, the Orangutan Forest, Zoorassic World and Wolves in the Woods.  In 2015, the Gorilla Rainforest was cited by the World Association of Zoos and Aquariums as a fine example of what can be achieved in a zoo.  The conservation message has been skilfully woven into every activity of the zoo with help from a very successful behind-the-scenes television series, skilfully designed education programmes and ethical marketing.  The interest of visitors saw annual visitor figures reach one million in 2011 (in a national population of around five million) and remain well over million each year until 2020 when the Covid pandemic closed the zoo for an extensive period.  However such is the affection and regard of visitors for the zoo, in November 2020 over €2 million was raised within 48 hours on the announcement of a public appeal for help.
Dublin Zoo is still operated as a charity by the Zoological Society of Ireland and is managed by a highly professional team.
River Liffey Tours
River Liffey Tours
Dublin's tour service on the River Liffey. The bright red, glass-roofed tour boat, 'Spirit of Docklands' operates between the city centre and the Docklands, exploring the historical sites and landmarks along the River Liffey.
A tour guide delivers entertaining snippets on Dublin life specific to the Liffey and Docklands throughout the journey, offering passengers an intriguing insight into Dublin folklore and history. The script has been developed by leading Dublin historian Pat Liddy. The tour departs from a landing station at Bachelor's Walk, passing under O'Connell Bridge downstream past the Custom House in Docklands. It reaches the East Link Toll Bridge and the Grand Canal Basin before passing the IFSC and returning to Bachelor's Walk.
Climb aboard an all-weather 48-passenger river boat for a 45-minute cruise along the River Liffey in Dublin and see the city from the water. Get insight into the history of Dublin City and the River Liffey in particular, from the arrival of the Vikings more than 1,000 years ago, through the swift development of Dublin during the 18th and 19th centuries, to the subsequent decline and more recent redevelopment of Dublin Docklands. Hear about the iconic Ha'penny Bridge and Gandon's masterpiece Custom House. Follow the story of Dublin's Royal and Grand Canals, and see where Oliver Cromwell landed in 1649. Discover how Captain William Bligh surveyed Dublin Bay in 1800, and how much of present day Dublin now sits on reclaimed land, including Trinity College and the Spire in O'Connell Street.
Also available is Rafting and Kayaking there are so many great things to do on the Liffey.  Found out all that the liffey has to offer in the link below.
Dublin City Shopping
Dublin City Shopping
McGettigans Townhouse is perfectly located for a shopping break in Dublin, we're within walking distance to several great shopping districts including Grafton Street and Henry Street. We offer great value accommodation rates, meaning you will save all the money you need to shop till you drop!
Grafton Street
Vibrant and spirited Grafton Street serves as Dublin's main shopping zone.  Home to Brown Thomas Ireland's flagship store, this pedestrian thoroughfare runs through the centre of historic Dublin. When you are in Dublin for shopping, Grafton Street has to be on your list.
Some of the lovely shops around Graft Street Shopping Area.
Brown Thomas
Avoca Handweavers
Weir & Sons
Kilkenny Shop
Massimo Dutti
NEXT
Tommy Hilfiger
Marks & Spencer
stephens green
Stephen's Green Shopping Centre is the best-known shopping centre in the city and you can find it at the top of Grafton Street.  It is beautiful situated just across from St Stephens Green so you could go for a ramble before your shopping trip!
Powerscourt Centre you can find when you wander down Grafton Street accessed through a beautiful little lane with pretty Jewellery shops.   Powerscourt Centre is a haven of small artisan boutiques and galleries, eateries and designer stores.    Take a look around the various levels and sit have have a coffee and something to eat and watch the world go by.
Henry Street
The Second principal shopping Street in Dublin's city centre the best in our opinion! : lined with department stores and malls. Henry Street is located on Dublin's Northside running from the Spire of Dublin and the General Post Office on O'Connell Street in the east to Liffey Street in the West.   Henry street is just a five minute walk from McGettigans Townhouse.
Arnotts
Dunnes Stores
Pennys/ Primark
Louis Copeland
Marks & Spencer
ZARA
River Island
NEXT
Mango
Pull and Bear
JERVIS Shopping Centre
ILAC Shopping Centre
jervis shopping centre
Jervis Shopping Centre has long established itself as one of Dublin's most successful and vibrant shopping environments.
Located on Dublin's busiest shopping street, Mary Street, the Shopping Centre is home to a wide range of stores offering fashion, leisure, technology as well as a growing selection of dining options for visitors to enjoy. Recently the centre has deepened its fashion and beauty credentials by attracting the biggest JD Sports in Ireland and a new Superdrug, it is also home to the biggest New Look in Europe, Topshop, a brand new Stradivarius, Best Menswear, Timberland and VANS; there's even more reasons for fashion lovers to visit.
Arriving at Jervis Shopping Centre could not be easier – the Jervis Luas stop is right at the entrance and Dublin bus stops and the Dart are within a few minutes' walk. For those preferring to drive, the Centre's very modern car park offers 750 car spaces.
Some History..
The centre was built on a 12,000 m2 (3-acre) former hospital site, which was bought in 1994 at a cost of £5.97 million. The centre was built at a cost of £76 million. Most of the facade of the former Hospital has been retained and incorporated into the Shopping Centre. Jervis Shopping Centre opened in 1996 and extends to 37,000 sq.m. The centre was originally anchored by Debenhams, M&S and Tesco, and boasts 750 Car Parking spaces. The property is strategically located on Mary /Henry Street, one of Ireland's busiest high streets. Since 1996 Jervis Shopping Centre has established itself as Dublin's most successful and vibrant shopping environment.
Although its main entrance is on Mary Street, the centre is named for Jervis Street Hospital on whose site it was built following the hospital's closure in the late 1980s. The existing Marks and Spencer store on Mary Street was incorporated into the new centre, with the other anchor tenants being Quinnsworth (now Tesco) and New Look in the unit formerly occupied by Debenhams.
  Hotel Accommodation near 3 Arena
Hotel Accommodation near 3 Arena
We are the ideal accommodation located close to the 3Arena just a few tram stops away. The 3Arena is a 14,500-capacity amphitheatre located at North Wall Quay in the heart of Dublin Docklands. The venue has played host to many world renowed performers and is one of the leading concert venues in Europe.
A stunning, state-of-the-art entertainment venue, with the kind of world-class acoustics that great music deserves.
The 3Arena is an indoor amphitheatre with a capacity of 13,000 located at North Wall Quay in the Dublin Docklands in Dublin, Ireland. The 3Arena opened on 16 December 2008. It was built on the site of the former Point Theatre, a smaller music venue which operated from 1988-2007, retaining only some of the outer facade. The Point Theatre was branded as "The Point Depot", in recognition of its original role as a railway goods handling station.
From 2008 to 2014, the 3Arena was known as The O2. Its capacity of 13,000, makes it the largest indoor arena in Ireland. The venue was rebranded on 4 September 2014 as the 3Arena due to the takeover of O2 Ireland by Three Ireland.
Upcoming Events at 3Arena, Dublin
List of shows coming up at Three Arena
Hotel Accommodation near Bord Gais Energy Theatre
Hotel Accommodation near Bord Gais Energy Theatre
We are located just a few tram stops away from the ahref="http://www.bordgaisenergytheatre.ie/" target="_blank" rel="noopener noreferrer">Bord Gáis Energy Theatre formerly the Grand Canal Theatre.  The theatre has capacity for  2,100 and is a purpose built theatre designed by world renowned architect Daniel Libeskind and is an outstanding addition to Ireland's Theatre world.
The Bord Gáis Energy Theatre presents the best of National and International Theatre, Musicals, Drama, Opera, Ballet, Family Shows & Classical Concerts and has the facility to accommodate world class West End and Broadway productions for the first time in Ireland.
The concept of the Bord Gáis Energy Theatre arose back in 1992. Mike Adamson CEO of Live Nation Ireland and 3Arena was constantly being asked by the producers of Ballet, Opera, Drama and Musicals about staging their productions in Dublin. During this time, a restricted amount of large scale theatre productions were being staged at 3Arena such as Cats, Bolshoi Ballet, Kirov Ballet, Miss Saigon, Les Miserables, Phantom of the Opera, Glyndebourne Opera and Mamma Mia.
Upcoming Shows
See whats shows are coming up – Shows Listing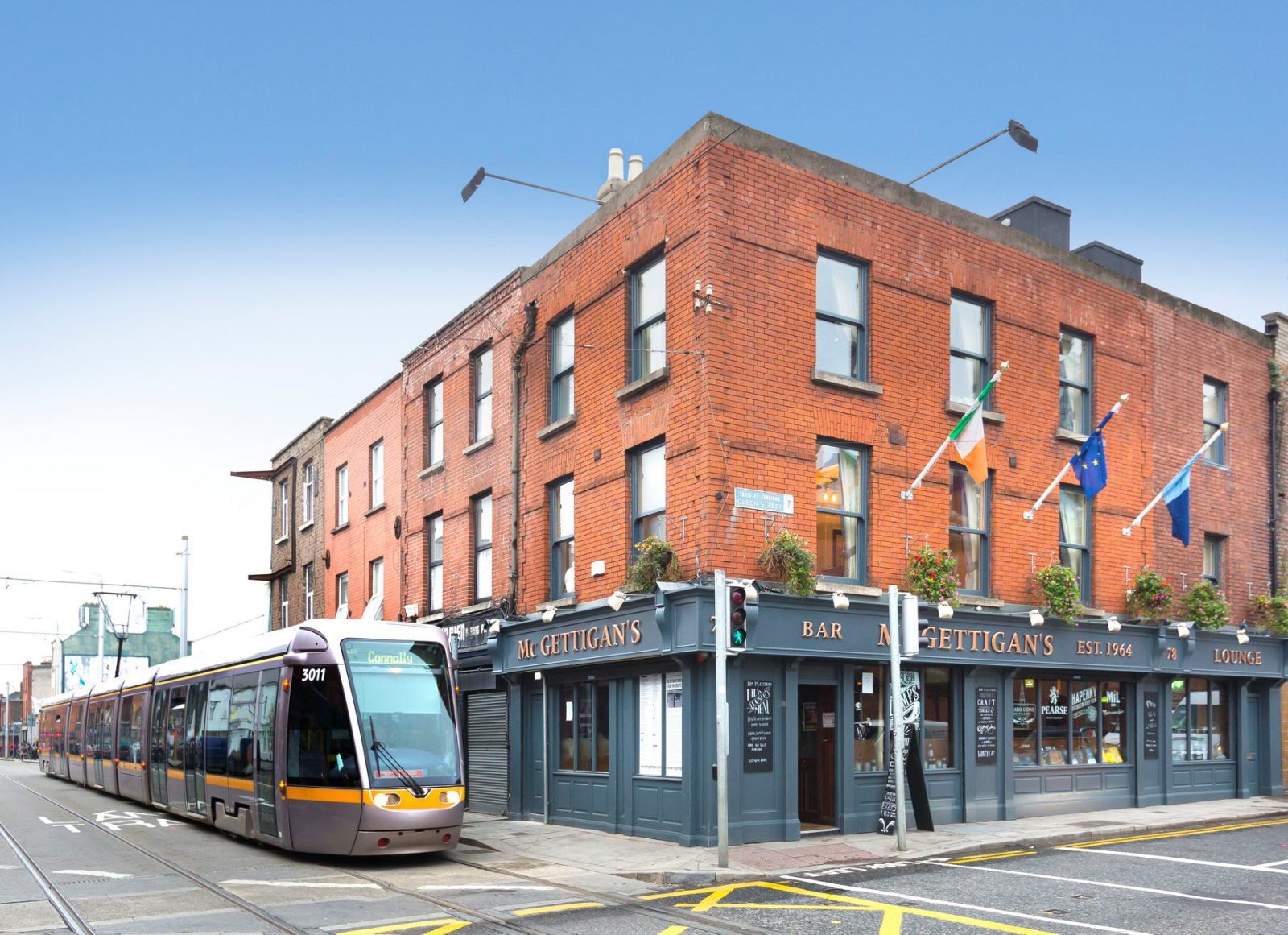 Find Us on Google Maps
Get In Touch
The Perfect Venue for You
McGettigans Pub & Townhouse is the perfect location for groups to stay who are exploring Dublin cities culture or for businesses who have a local office in the area and want to plan an event.
We can cater for office meetings, receptions, birthday celebrations, and group events – we just love to host parties.
You can even stay overnight in our upstairs accommodation.
Get in touch with us today if you would like to book an area for your event or check availability for rooms for your group.
Book an Event Book Your Stay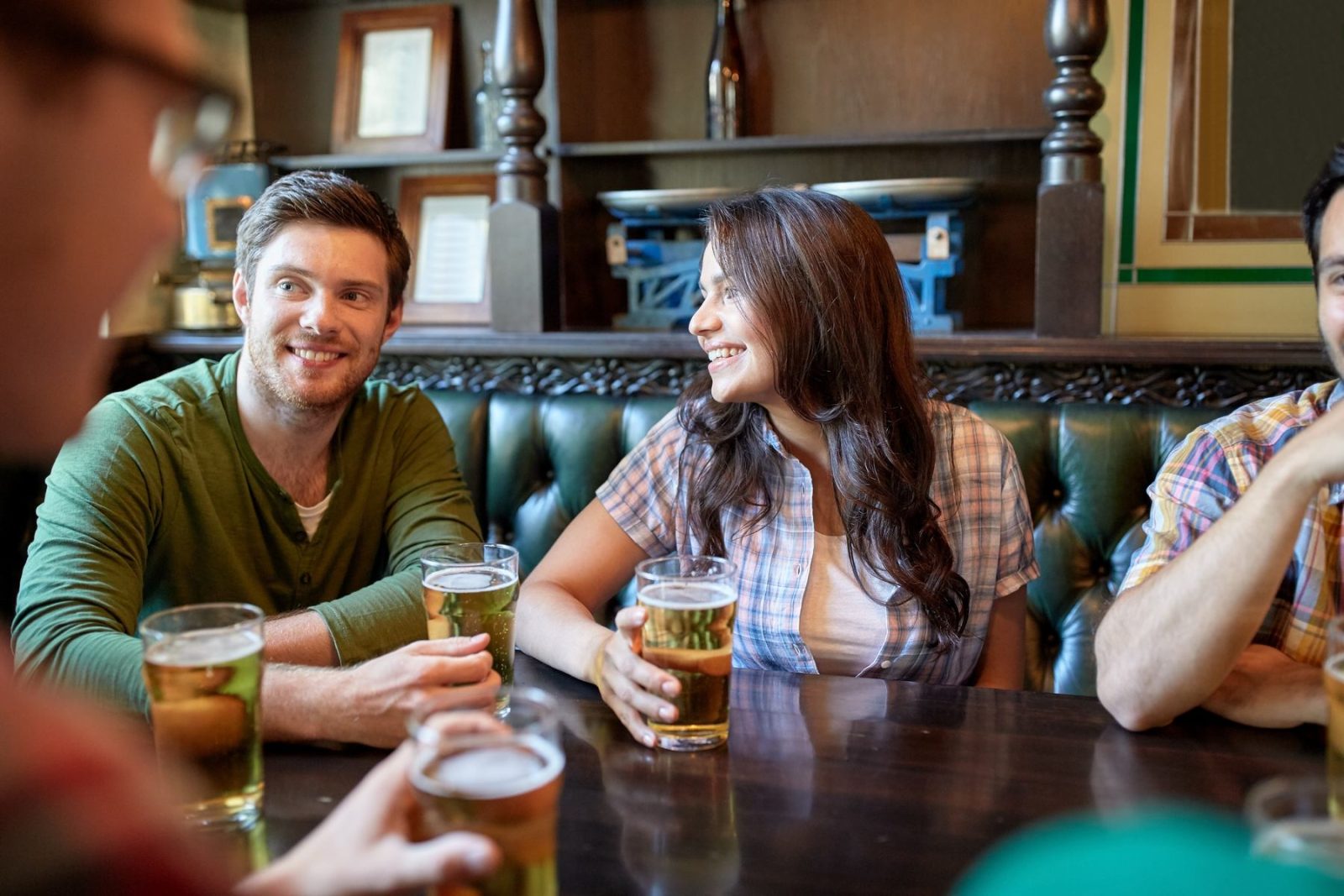 Have a Question?
Please contact the team at reservations@mcgettiganstownhouse.com